LOOK AS YOUNG AS YOU FEEL!
WHAT IS IGF-1
IGF-1 (Insulin-like growth factor 1) is a hormone produced by the liver that is essential for many different biological functions. IGF-1 levels peak during puberty and reach their lowest levels as we age. A decline in IGF-1 levels can result in several different symptoms such as a lower quality of sleep, aching joints, bone density problems, fatigue, aging skin and more. If you are deficient in IGF-1, starting an IGF-1 therapy program can improve these symptoms.
---
HOW DOES IGF-1 WORK?
IGF-1 works to reduce aging symptoms by increasing muscle growth, repairing nerve and cartilage injuries, boosting energy levels, and increasing bone strength as well as density. The benefit of starting IGF-1 therapy is that you will experience results quickly, depending on the level of deficiency that you have. At Nu Image Medical we provide you with pure, pharmaceutical grade IGF-1 at the right amount with our safe and discreet online program. Enroll on this page today by CLICKING HERE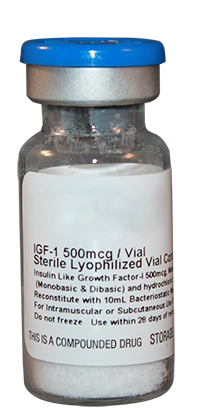 ---
TRY THE IGF-1 PROGRAM TODAY!
The IGF-1 program is easy to start, and you can purchase it now from the comfort of your home without embarrassing in-person meetings or appointment fees. Enroll today.
---